Facilities
The UMTV broadcast studios located at the University of Miami School of Communication redefine the standard in video production and training in the broadcast college arena. We provide students with a comprehensive professional education in a cutting-edge environment.
UMTV consists of two large recording facilities, Studio B and C. Both studios, our two control rooms and master control are outfitted with elite industry equipment. Our highly trained engineers and technicians provide all-day support to student productions. UMTV studios combine the highest quality production values with state-of-the-art hardware and software.
For more information or to schedule a tour of our facilities, contact UMTV Operations Manager Ben Ezzy.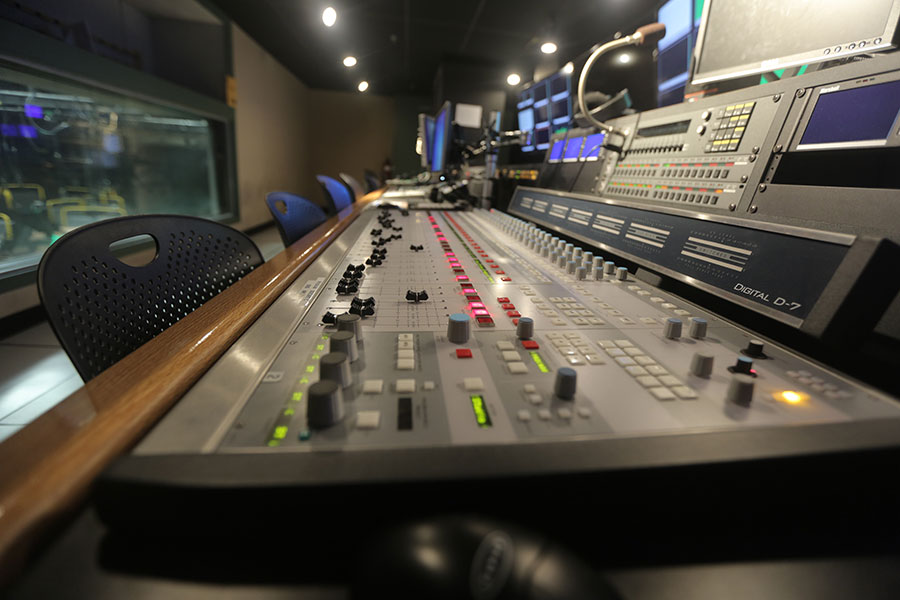 Studio B
Three LDX WorldCam Grass Valley HD cameras with Autocue teleprompters
10' x 10' retractable green screen
Custom set with RGB LED and digital controller
2 x 2 HD video wall with four 55" Panasonic Broadcast monitors
Two 70" HD monitors
One 55" HD monitor
Studio C
Three LDX WorldCam Grass Valley HD cameras with Autocue teleprompters
Custom set with RGB LED lights
ETC ION Lighting Controller
One 55" wall monitor
One 55" desk monitor
Control Room
Two Grass Valley Karrera Switchers
Two Grass Valley K-2 servers
Two Wheatstone D-7 audio boards
Cameo/Mosaic Chyron Graphic System
Blackmagic HyperDeck SSD Recorders